An exploration of knowledge, attitude and practices towards COVID-19 prevention measures among restaurant workers in Kigoma-Tanzania.
Keywords:
COVID-19, Prevention Measures, Social Cognitive Theory, Health Belief Model, Pandemic Responses
Abstract
This article aims to assess knowledge, attitude and practices (KAPs) towards COVID-19 prevention measures in a context where the official governmental position towards COVID-19 has been changing; the implications of that official attitude to COVID -19 about community-level awareness, knowledge and practices were also determined. A cross-sectional survey was adopted and involved 200 restaurant workers from 25 restaurants conveniently selected. Field data were collected using a survey questionnaire and direct observations. A multivariate analysis was used to explain the relationships between studied variables using descriptive statistics. The study findings revealed that only 63(31.5%) of all the respondents were knowledgeable about COVID-19 and its prevention measures. It was also found that the respondents had optimistic attitudes and expected practices towards very few (4 out of 15) prevention measures. Education level was a very important factor that influenced knowledge about the disease than sex and age groups. The study also concluded that the attitude of the majority towards COVID-19 prevention is either negative or ambivalent, which in turn inhibits the implementation of the recommended COVID-19 prevention measures. This implies that COVID-19 prevention programs need to target unaware segments of Tanzanians: a more focused educational programme about COVID-19 for such groups was needed from the onset of the pandemic. As pandemics reoccur, appropriate experiences and lessons documented will contribute to more consistent responses in the future such as the issuance of objective policy statements by the country's leadership on pandemics.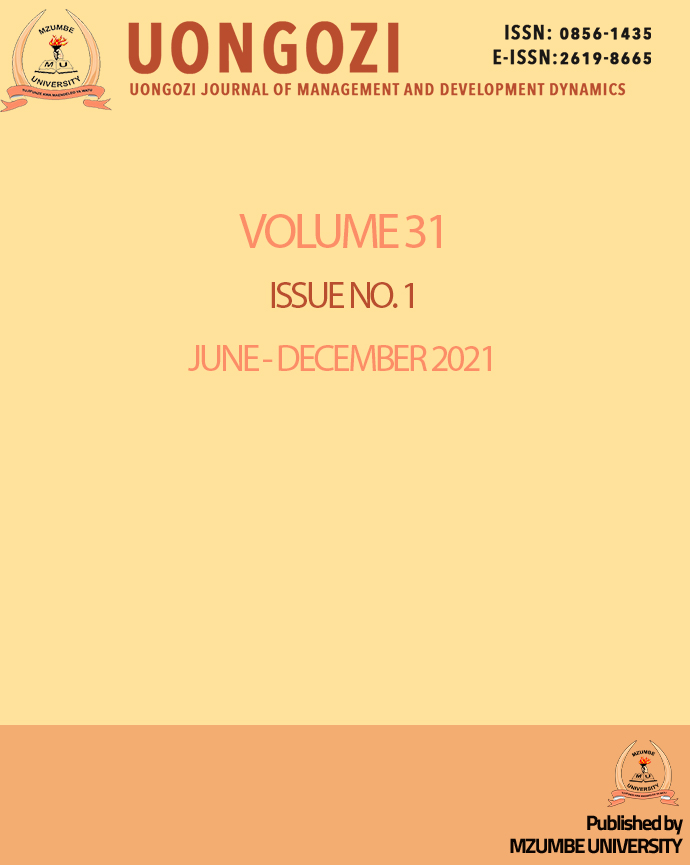 Downloads
How to Cite
Ally, S. I., & Issa , F. H. (2022). An exploration of knowledge, attitude and practices towards COVID-19 prevention measures among restaurant workers in Kigoma-Tanzania. The UONGOZI Journal of Management and Development Dynamics, 31(1). Retrieved from https://ujmdd.mzumbe.ac.tz/index.php/ujmdd/article/view/2